true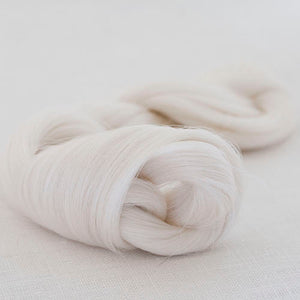 ns-18c raw silk organzine
Yes... This is still very thin (slightly heavier than NS-18A), but strong! Beautiful as warp or weft yarn. Dyes wonderfully, too. If you are not dyeing the skein, please request to have it wound on a cone. It will save you hours of your time. ($10.00 per skein winding charge applies. Please email with the request after checking out. I will send you a separate invoice for you.) "Organzine" means generally a balanced twist (ply). This yarn is not degummed yet. It is beautiful as is or if you are interested in the degummed version, please see NS-18H. 
Please note that the colors you see on the screen may not be accurate as each monitor displays differently. Thank you for your understanding.
unit size: 2.5 oz.
content: 100% silk
yardage: 4600 yds.
weight: lace
suggested epi for weaving: 40-80
suggested needle size for knitting: us no. 1-2


Would you like this yarn wound onto a cone? Please click here.