true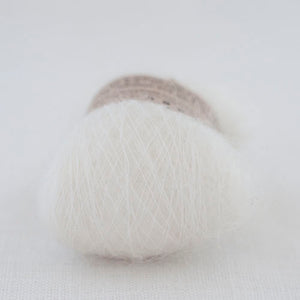 This is an "extremely" fine kid mohair. The yardage is about twice as much as A-32 silk mohair. A garment can be knitted from just 3-4 balls of this yarn! It is weightless like air. Beautiful as a weaver's warp, too, but please be careful not to set them too close. It will catch each other.
For a project idea, please take a look at kit-110!
Please note that the colors you see on the screen may not be accurate as each monitor displays differently. Thank you for your understanding.


unit size: 1/2 oz.
content: 68% kid mohair, 32% nylon
yardage: 311 yds.
weight: lace
suggested needle size for knitting: us no. 1-5