true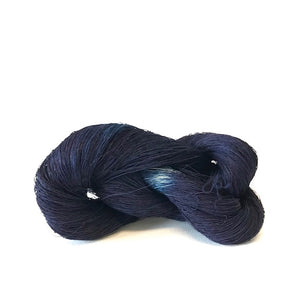 n-122 "nagare boshi" indigo paper
One day I decided to hand tie parts of the paper with hemp, and asked the indigo dyer to dye it as dark - like black - as possible - just to see -
Random and extremely delicate whites shot around within a dark dark indigo... like "nagare boshi" - shooting stars! This yarn also come in white, indigo, and asagi green.
This yarn takes time to prepare (I do the ties myself...!) and dye, so please allow approx. 2-3 weeks for the delivery. (most likely sooner) Thank you for your patience. I will wind the yarn onto a cone for you, but this... also takes time as I have to wind it extremely slowly to avoid breakage. There is a $10 winding fee. Please click here if you would like this wound onto a cone. 

Please note that the colors you see on the screen may not be accurate as each monitor displays differently. Thank you for your understanding.


unit size: 1 oz.
content: 100% linen
yardage: approx. 1986 yards
weight: super lace
suggested needle size for knitting: us no. 1-3