true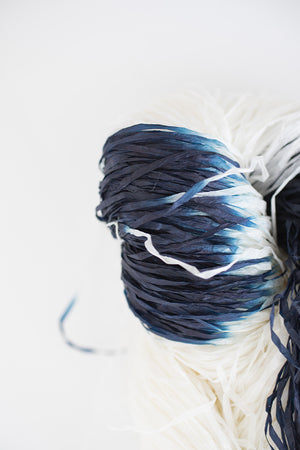 n-108 variegated indigo paper
Quite a few years ago, I had a pleasure of meeting an extremely talented American indigo dyer, who studied in Japan for over 10 years. He is now a fine art professor at Indiana University, an accomplished artist and also a very ambitious indigo dyer. 
I have always wanted to expand our collection of indigo dyed yarns, and when he mentioned - may be he could dye them of me... I jumped at the opportunity! 
This is a very unusual variegated version, which derived from his art work. I am honored to be able to offer this again.
Would you like to dye the paper yarn yourself? Here it is! Would you like other colors? Please take a look here!
Please note that the colors you see on the screen may not be accurate as each monitor displays differently. Thank you for your understanding.
unit size: 1.7 oz.
content: 100% linen
yardage: 476 yards
weight: novelty
suggested epi for weaving: 4-5 ends
suggested needle size for knitting: US no 3-8