true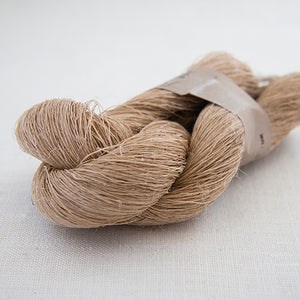 aos-1 "chu ito" hand tied ramie
This special yarn is made from the stalk of ramie plant. The skin of the stalk is stripped, and the fiber is split to a hair thin weight one by one into approx. 1 yard length. The ends are twisted and connected together all by hand. Extremely labor intensively created yarn. Still available from a small village in China. Makes an unusual light knitted fabric when carried 3- strands together. Great texture for weavers, basket makers, etc. Very sculptural. Dyes well. The color may change from one lot to the other. A skeins comes slightly in a different size. We will confirm the weight and the exact cost of the skein at the time of your order.
Please note that the colors you see on the screen may not be accurate as each monitor displays differently. Thank you for your understanding.
unit size: 1 oz. ball
content: 100% ramie
yardage: approx. 300 yds.
weight: lace
suggested needle size for knitting: us no. 3-5