true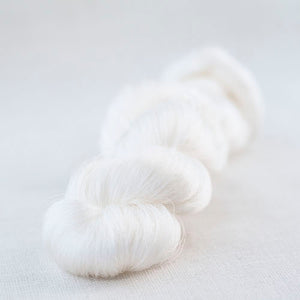 ns-18f degummed silk organzine
Yes... This is reeeally thin, but strong! Beautiful as warp or weft yarn. Dyes wonderfully, too. (but please be cautious when you unwind the dyed skein. It is tangled. You must have an appropriate swift and also a winder.) If you are not dyeing the skein, please request to have it wound on a cone. It will save you HOURS & DAYS of your time. ($10.00 per skein winding charge applies. Please email with the request after checking out. I will send you a separate invoice for you.) "Organzine" means generally a balanced twist (ply).
Please note that the colors you see on the screen may not be accurate as each monitor displays differently. Thank you for your understanding.
unit size: 0.65 oz.
content: 100% silk
yardage: 4600 yds.
weight: lace
suggested epi for weaving: 60-100
suggested needle size for knitting: us no.0-2


Would you like this yarn wound onto a cone? Please click here.