true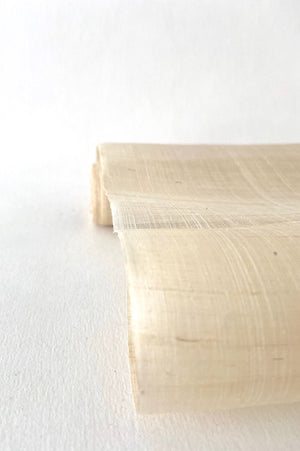 Pina fiber linawan is carefully scraped out by removing thorns and outer layers of mature pineapple leaves, using coconut shell or a shard of pottery. Washed and dried, each fiber is hand tied with knots, so that they become a continuous fine thread. 
The fiber used for this particular pina is extremely fine. Both warp and weft are hand-tied pina.


Sheer and strong. The amount of process and labor to create this weightless fabric is mind boggling. This fabric is a miracle.


Please note that the colors you see on the screen may not be accurate as each monitor displays differently. Thank you for your understanding.


unit size: 1/4 yd.
weave structure: plain weave
warp fiber content: 100% pina
width: approx. 14.4" (36 cm.)